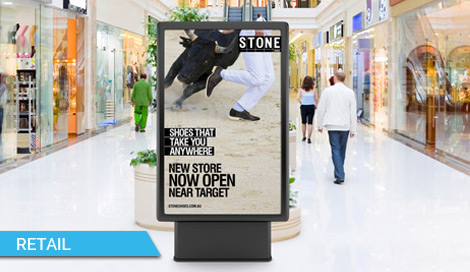 Shopping Centre Advertising
Last Minute Billboards give advertisers access to shopping centre advertising in over 500 centres across Sydney, Melbourne, Brisbane, Adelaide, Perth, Darwin, ACT and regional locations.
Benefits – Shopping Centre Advertising
Shopping centre & outdoor advertising allows advertisers the ability to target consumers at the critical decision making phase of the purchase cycle. This ensures your brand is top of mind in proximity to supermarkets, department stores, chemists, telecommunication stores, retail fashion and banks to name a few.
With a potential audience of over 11 million people nationally shopping centre and retail advertising environments can deliver a broad reaching campaign for your brand. Last Minute billboards offer a range of cost effective options from targeting a single centre to a national campaign.
Shopping centre advertising sites are posted in two week display periods giving advertisers the opportunity to build campaigns around key sale times or marketing initiatives. Digital signage also provides the opportunity for time of day and day of week messaging. This allows advertisers to display specific messages at different times of day. This targeted approach enhances cut through and relevance to the audience.
Shopping Centres are also categorised into Local, Medium and Large centres each delivering a specific benefit.
Local Centres – higher frequency and are visited more often
Medium Centres – a combination of reach and frequency
Large Centres – mass reaching, however visited less often
Shopping Centre Advertising Attributes:
Path to purchase media delivers a relevant message immediately prior to point of purchase.
Proximity targeting gives the ability to target specific retailers
Mass coverage or strategic placement
Cost effective production
Targeted two week display periods
Top of mind awareness
FORMATS