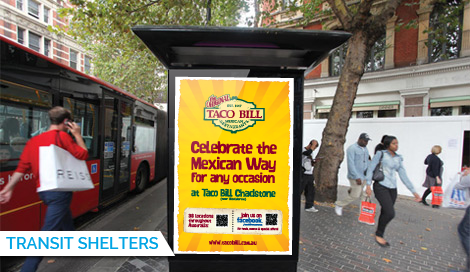 Bus, Train and Tram Transit Advertising
Why transit advertising is so effective
Did you know consumers are on average 2.5 times more alert when they're out and about? Transit advertising is one of the most effective ways to reach consumers when they're on the go with eye-catching, moving messages that grab their attention.
Transit advertising offers wide scope for creative design to build your brand and reinforce your message to a captive audience of passengers, commuters and pedestrians on a daily basis.
The broad range of bus, train and tram transportation routes and operation times also means your message will be exposed to a wider audience across major metropolitan, suburban or regional areas.
Benefits of transit advertising
Transit advertising offers a long list of benefits for your brand or campaign. Here are just a few of them:
Strong impact: Wide scope for creative design, harnessing striking visuals that will stick in the minds of your consumers.
Wide-coverage: Your message is exposed to a wide geographic area including metropolitan, suburban or regional areas.
Mass-reach: Display your message to a broad audience encompassing passengers, commuters and pedestrians.
Effective brand-builder: Reach consumers when they're most alert and reinforce messages delivered via other mediums.
Commands attention: Your message is unavoidable when your audience is confined and attentive.
Frequency: Reinforce your message with frequent daily reminders of your product, brand or business.
Versatile: Utilise a single mode of transport or expand your campaign to include multiple transit platforms.
How last minute transit advertising works
We can help you formulate a compelling transit advertising campaign in metropolitan and suburban areas in Sydney, Melbourne, Brisbane, Adelaide, Perth, Gold Coast or the ACT as well as a range of regional locations for a fraction of the regular cost.
How do we do it? Transit advertising opportunities are booked over thirteen 4-week advertising cycles across the calendar year; at the start of each 4-week period there is surplus bus, train and tram advertising space that hasn't been booked which we can offer to clients for 70% off the standard rate card.
Tailor your transit advertising to the campaign
Last minute doesn't mean you'll be limited for choice. You still have the flexibility to customise your campaign with a 100% last-minute arrangement that will get you the most bang for your buck or a 50/50 mix between pre-booked and last-minute slots to support a more strategic targeted campaign.
We also have access to great last minute deals on a range of other out of home advertising formats including transit street adverts, billboards, office, retail/shopping centres, universities, airports and fitness centres. We'll be able to recommend the most efficient mix of out of home mediums to support your campaign and minimise wastage.
We'll make it happen
Whatever you've got in mind, with plenty of transit advertising opportunities to choose from, we'll ensure you receive the most relevant inventory to make your campaign a success. Work with our in-house designers to bring your campaign to life, or simply send us the artwork and we'll take care of the rest.
We work on a first-in best-dressed basis, so enquire now to secure the best spots!
FORMATS