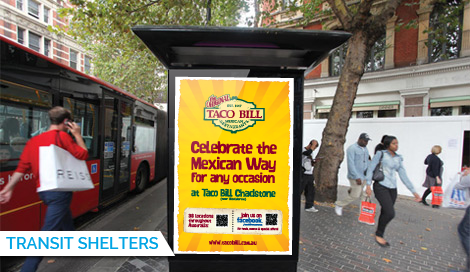 Bus Stop, Tram & Train Shelter Advertising
Last Minute Billboards has access to cost effective street furniture inventory nationally. Allowing advertisers to speak to busy commuters and youth audience with train, tram and bus stop advertising across Sydney, Melbourne, Brisbane, Adelaide, Perth, Gold Coast and the ACT.
Benefits – Street Furniture
Train, bus and tram stop advertising delivers your message to two desired demographics. The lucrative White Collar (Occupational Group 1) and youth market.
With employees travelling to and from work on a daily basis your message will be seen up to 20 times by each person over the duration of a 14 day campaign. This frequency ensures advertising will cut through and be noticed, increasing your return on investment.
Billboard advertising in Melbourne is also a market leading medium used to speak to the hard to reach youth market as they travel to and from school, university and part time employment. The wait time at the stop coupled with the ability to research advertising on smart phones while in transit ensures advertising can have an immediate effect.
The breadth of street furniture coverage allows flexibility when designing a campaign. We can geographically target locations that are in close proximity to your business, specific franchise locations or entertainment precincts. This ensures your brand is top of mind while in the immediate vicinity of the point of purchase.
Train/Bus & Tram stop attributes:
Long dwell time
Ability to research products and services using smart phone while in transit
Mass coverage or strategic placement
Geo targeting capability
High Frequency
FORMATS