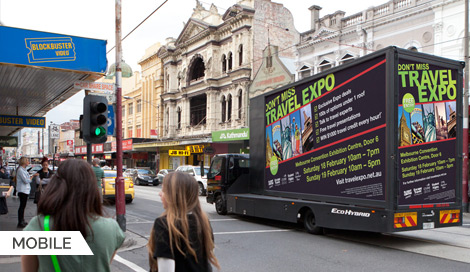 Mobile Billboard Advertising
Last Minute Billboards offers cost effective mobile billboard solutions nationally. With the ability to target Sydney, Melbourne, Brisbane, Adelaide, Perth and ACT. Formats include large 6m x 3m truck billboards, Scooters with trailer, and walking "human" billboards.
Benefits – Mobile Billboard Advertising
Mobile billboards deliver advertising exactly when and where it is required. They offer the flexibility to saturate specific geographic locations at specific times of day. Mobile & billboards advertising are perfect to take your message directly to where your audience is at any given time. Tactical guerrilla campaigns can be delivered by hijacking major events like grand finals, horse racing or exhibitions. We can take your message to where the masses are.
Mobile billboards offer the additional benefit to enhance a campaign by using drivers that can distribute marketing collateral and interact with the audience. Drivers can be kitted out in branded uniforms and briefed on key messages to discuss with the audience.
Large mobile truck billboards are perfect to create an impact in your desired location and smaller walking billboards are effective at street level to engage with consumers. Mobile billboards are also available in digital format. High resolution screens turn heads and allow for easy copy change.
Mobile Billboard Attributes:
Go anywhere any time
Ability to target events and crowds
Effective at saturating smaller specific locations
Ability to enhance campaigns with promotional staff
Distribute marketing collateral
Simple to change message on a daily basis
FORMATS